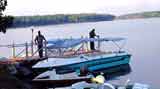 Picnic Village :- This village located at Ashramam, along the backwater front, is the main centre of recreational activities in Kollam. A 200 year old Government Guest House, an Adventure Park, a Tourist Boat Club, a Children's Traffic Park and a Yatri Nivas are all housed in this vast tourist complex.
Police Museum :- Kollam Police Museum: India's first and only one police museum. Explores India's police history other attractions are watch tower, meditation hall, garden, traffic guidance. .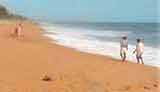 Thirumullavaram Beach :- (6 km north of Kollam town): This secluded beach is a beautiful picnic centre and has frequent bus connections to the town.
Thevalli palace :- The beautiful and historical important palace situated on the banks of Ashtamudi Kayal (back water) Sasthamkotta 26 Km. north-east of Kollam city. Sasthamkotta is situated on the bank of Kallada river. There is a temple dedicated to Lord Sastha. Sasthamkotta lake The place in known for the Sasthamkotta fresh water lake. The natural gift is set amidst scenic surroundings covered by hills on the three sides.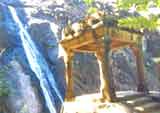 Palaruvi Waterfalls:- (75 km from Kollam town): Palaruvi which means stream of milk makes its way down the rocks, from a height of 300 feet. The Palaruvi woods is a beautiful picnic spot. The PWD Inspection Bungalow and the KTDC Motel offer comfortable accommodation. .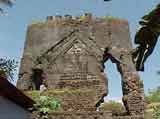 Thangasseri:- (5 km from Kollam town): This seaside village of historic importance has the ruins of an old Portuguese fort and churches built in the 18th century. The Thangasseri lighthouse which is 144 feet high, is open to visitors from 1530 - 1730 hrs.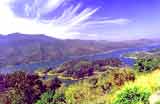 Thenmala:- ( 66 km east of Kollam):The area is covered by dense forest, rubber and tea plantations. An Eco Tourism Development Project is under implementation here. Thenmala is also a damsite.
Ariankavu:- (70 km from Kollam town):Situated on the Kollam - Shenkottai road, Ariankavu is famous for the shrine dedicated to Sree Sastha. Mandala Pooja and Trikalyanam celebrated in the month of December are the main festivals here. There are frequent buses to Ariankavu.